Google seems to have been pretty active in the past few months, but what is it that seems to have gotten Google on the move so much? Well first of all there was the announcement of Google instant which stirred up a whole bunch of discussion across the online marketing world.
In my opinion Instant stirred up far too much chatter, and isn't actually as big deal as many of us originally believed. In actuality Instant has caused a few problems, and as far as some reporting goes, I believe that Google need to clear up a few things! In Google Webmaster Tools impressions have been going off the chart, and massive numbers are sometimes being reported for terms that we used to see lower figures for. This has seriously detrimental effects on the click through rates for these terms as well, therefore making them difficult to report. Is this something that Instant has caused, say if a page keeps on showing up as each character to a term is inputted, does each time count as an impression?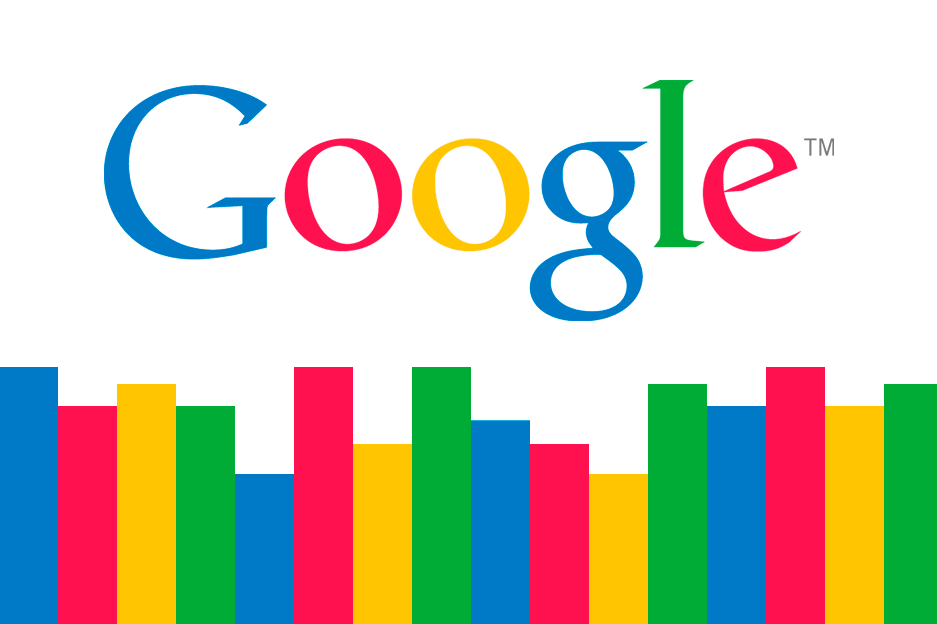 Anyway, this isn't by far the biggest news!
Nope, Google has rather hastily rolled out another massive change, that hasn't been announced. This one just found its way into the SERPS without warning, with potentially massively damaging or positive effects. Have you seen any differences with Google Local recently? Well if not then take a look at a prime example of what Google has done to the Organic SERPS now:
Organic Listing for London Hotels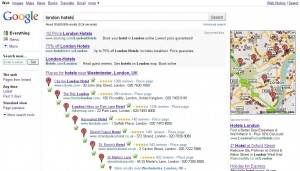 So firstly there is this one. The most important aspect is that the Map is being displayed in the PPC results, which as an SEO I actually quite like. It is of course hell for all of you Adwords experts, and it gets even worse! When you scroll down the page, the map will follow your screen as well, also covering the PPC results as you scroll! This could spell disaster for all your PPC payers that can only afford position 4 and 5 results.
Next is the part that really winds me up:
Organic Listings for London Hotels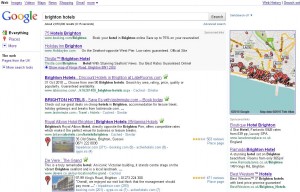 Click To View Larger
Immediately I can see Pros and Cons with this new set up. First of all the Map still dominates the top left PPC results, and secondly it takes over the Organic Results as well! The third and fourth positions you can see here, actually have been fused into the Organic results with the title tag, and an entire listing dedicated to them. This forces other Organic results down the page, causing damage to these listings. Even worse these local results count as an Organic listing that means there are still only 10 listings in Google!
This spells massive changes for SEO's around the world. If you want to look at the advantages, then one way of admiring it is that those of us in the Local market, rather than affiliate sites you can attain an easy local listing, with potentially great traffic benefits.
One of the biggest problems is that Google Local can still be heavily manipulated, so Google need to clean this up before it is completely rolled out!
Let me know what you guys think about this!